Independent, same day, dedicated vehicle courier service based in Didcot, Oxfordshire
Dedicated delivery vehicle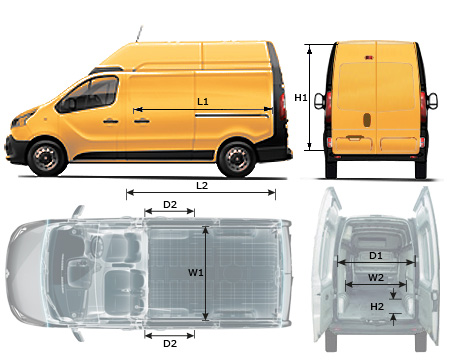 Specifications
The dedicated Moja delivery vehicle is a medium wheelbase Renault Master MH35 High Roof with "beefed-up" suspension which enables it to easily carry a 1.3 tonne (1300kg) payload.
The whole cargo area has a rubber floor covering.
Key internal dimensions are:
(L1) Nominal internal length at 1.1m high up the bulkhead: 3030mm
(L2) Nominal internal length at floor: 3083mm
(W1) Nominal maximum internal width: 1756mm
(W2) Restricted internal width between wheel boxes: 1330mm
(H1) Nominal internal height: 2100mm thanks to the extra high roof
(H2) Wheel boxes: 840mm long x 370mm high
(D1) Rear door opening: 1580mm x 1820mm
(D2) Side door opening: 1270mm x 1750mm
These dimensions allow it to swallow two Europallets; but absolute maximum load dimensions will depend upon the overall item shape.